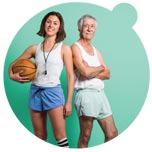 Movember Mo Sista activities during men's health month November 'Mo Sista' is a woman who joins during November Movember activities for supporting men's health...

Keith Haring artworks on Clarisonic skin tools
...for the support of children's education, medical research & care. The Mia 2 series with cartoon/street art inspired...

Fashionoffice selection: snow walking outfit and beauty for an affordable price Fashionoffice collected some pieces for snow walking under the motto 'very nice price'...

Lancôme color palette for festive events Autumn has just started and the first invitations to advent punches and info about holiday collections arrive at Fashionoffice...

Formula E driver Daniel Abt for Titanflex The new Titanflex x Audi Sport ABT collection is one of three selections by Fashionoffice for men's style under the aspects 'mechanics...'

Fashionoffice selection: après ski fashion and beauty The après ski outfit consists in the most cases of sports items with glam upgrade; Fashionoffice applied to luxury ski pants...