Kilian Hennessy's collaboration with artist Sophie Matisse Sophie Matisse interpreted the compositions of the Kilian fragrances 'Good Girl Gone Bad', 'Straight to...

Fashionoffice selection: urban summer with after-work swim Swimming is one of the best sports activities for strengthening skin (keyword: anti-cellulite). The swimsuit...

Herr von Eden's Mühle shaving culture set German men's wear label Herr von Eden presents the collaborative Mühle brush (from vegan material), razor and porcelain bowl set...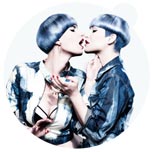 Denim inspired the winner of the Austrian Hairdresser of the Year ...Alexander Lepschi for his colour collection which was developed from the idea 'bring fashion to hair'...

Fashion illustrator Jamie Lee Reardin's packaging design for Glossybox The illustrations of the 'Vive La France' box show Jamie Lee Reardin's personal impressions...

Fashionoffice selection for the weekend break Beach, pool, city walks with exhibition explorations, and party are the ingredients for weekend breaks. The BB body milk...