Fashion beach impressions in Pantone colors SS2015
...from the current and upcoming collections by Andy Wolf, Vivienne Westwood, Fred de la Bretonière, Codello...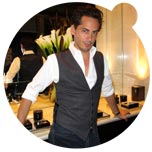 Favorite unisex perfume article in 2014 (so far)
...concerned Kilian Hennessy's 'Addictive State of Mind' collection which is inspired by tobacco, coffee, cannabis...

Party selection
...from collections of boots by Sergio Rossi, beauty by Tom Ford and Yves Saint Laurent, clutch by Vivienne Westwood, scarf by LoomingArts...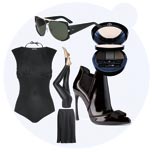 Holiday cocktail style
The outfit selection shows boots by Sergio Rossi, sunglasses by Dior, powder and eye shadows by Giorgio Armani Beauty, body, leggings and skirt by Wolford...

Hairstyle inspired by images of nightclub dancers of the late 19th century Vienna headquartered hair salon chain Bundy Bundy created the art collection 'New Montmartre'...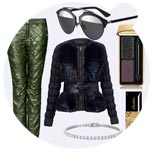 Winter style 2014/15 for on-the-go Fashionoffice selected some pieces for meetings at the upcoming punch stands in urban environment or après ski in the mountains. Guerlain's...